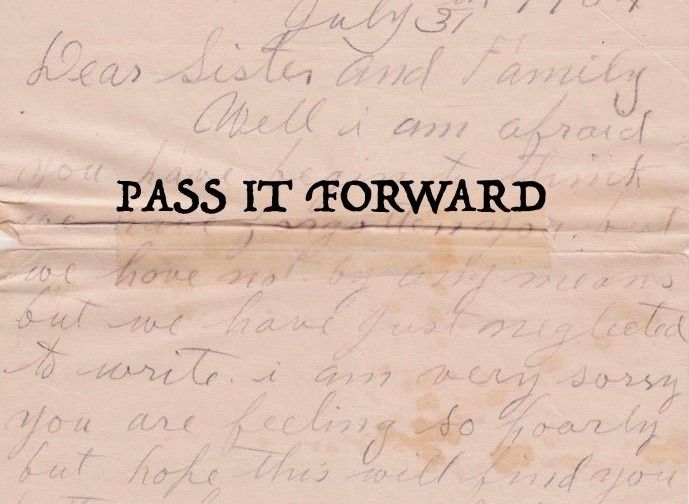 PASS IT FORWARD
How to keep your family stories alive for years to come!
I recently read an old letter to my great great grandmother from her brother.  It was written in 1907, when he was 29 years old! This gave me a small flash of that time period and everything he wrote about was just his everyday life!  I was anxious to read more, as he said he was living in a tent and wished his sister could be there with him.  He also told about how his life was the best it had ever been, because he had just "received a raise to .50 cents an hour" and was able to buy a chicken for dinner.  This excitement to buy a chicken made me pause to think about the real struggles he was going through and gave me a little peek into his reality.  It was a window to the past that made me feel strangely connected.
How many times have you pondered something like: "Where were my ancestors from and what were they really like?  New discoveries in the field of DNA research and the digitization of billions of records has given us some insight into those questions. However, we still want more. We continually crave greater insight into their personalities and thoughts. Our curiosity has been peaked and the more we discover about our own ancestors, the more we want to know.  We have the unique opportunity to pass forward our own experiences to future generations and answer the question; "What were they really like?" Here are some great starts and tips on how to get your own day-to-day life stories recorded and preserved and "Pass It Forward" for generations to come.
WHETHER it's using voice Memo's, leaving notes on your Phone or writing it down in a notebook. Find what works for you, to be ready for those anywhere, anytime memory flashbacks. With the outset of those memories safely claimed, create yourself a word/pages document and give it a creative title. I named mine, "Thanks for the Memories".  With those precious and precarious reflections, take time to summate a rough timeline for yourself and think about what you could do with those memories and the memories of others closest to you.
IF A live recording of those memories to the future, is more to your liking. Here is a brilliant App that can make it happen and it's free. You may have already heard of "Story Corps".  Using your phone or compatible device, this App will help you record your live stories. You can then share the recordings directly with your family and choose whether or not to also share them on the "Story Corps" website. Here, they will be archived at the Library of Congress where they can be accessed for free by future generations.  What a great way to pass it forward!  Check it out at storycorps.org
IF YOU love pen and ink, a good old fashioned journal may be your cup of tea for writing to the future.  Make it fun with a journal from your favorite stationary store or website.  No nee to scour through your notes or edit for a rewrite.  It's perfect the way it is!  Baron Fig  or Moleskine have a nice variety of journals.
ANCESTRY lets you create a free private family tree, where you may add living family members and/or deceased ancestors. The living are automatically listed as "private" and are only viewable by the owner of the tree.  You may also keep photos and documents in your tree, but no video. (Hint:  If you only want the free tree and don't want to pay for search options, DO NOT choose the free trial.  Instead, look in the black tool bar toward the top of the main page and choose "Trees".  Here you can create a free tree without a free trial.)  Ancestry.com
FAMILY SEARCH, Family Tree is a shared, public tree.  Information about deceased relatives can be seen by anyone who searches for that relative on FamilySearch.  To protect privacy, any information about living people on the Family Tree can only be seen by the person who entered it, in his or her private space. July 9, 2019  FamilySearch.org
LAST but not least. You can print your documents, stories and photos to create a lasting account with your own family history book.  Publish it yourself at a print shop to keep for yourself and a few closer relatives. Or, have it printed and available for sale using Amazon at a very reasonable price. Check it out. kdp.amazon.com
Please take advantage of the many and diverse media choices to help you "PASS IT FORWARD"!
© 2021 Stacey Wallace Rehbein
FamilyDig, Inc.