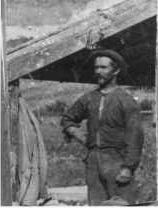 Mythos, Matters and Misfortunes
            CLEAR CREEK CANYON AND ITS RESIDENTS
Gottleib Bratchi was born 13 May 1837 in Canton, Bern, Switzerland.  He arrived in the US sometime before 1856 probably with his family to begin their new lives somewhere in Pennsylvania.  It doesn't appear they stayed there long. Before 1861 all were headed to Adams County, Ohio. Soon, after their arrival, Gottleib met and married Carolyn Beighley on 5 Dec 1861.  He had been in the US for 5 short years and after only a few months of marital bliss, Carolyn was pregnant with their first child, George Daniel.  Gottleib had already joined the Ohio 91st Regiment to fight a war; not much unlike the one he left behind.  So, besides his newly found country, he had a family to protect and did so for the entirety of his service.  They were blessed with two more children, Frederick K. and   Cora C., both born after the war.  This also seems to prove that Gottleib had been in the Civil war  for the duration.
Sometime between the end of the war and 1870 they chanced another big move. Most of this close knit family (from both sides) agreed to leave their old life behind and start over in St. Claire, Missouri. Gottlieb's father-in-law was a farmer and he a farm laborer.  It appears in the 1870 census, both family's lived next to each other.                                                                                                                                  
Who knows what war can do to a man, his family and livelihood?   However, in 1880's Leadville, anything was possible.
So Gottleib left for Leadville, CO, with hopes of  healing from the devastation and villainy of war along the way;  perhaps a chance to get lucky and "Strike It Rich" too.  Caroline and the children stayed home and in 1880 continued to live in St. Clair Missouri; still close to Caroline's parents.
(i.e. the information gathered in 1880, could have been printed and distributed in 1881 and so on for all future directories)
Gottleib first appears in the 1881 Leadville Directory as:  
1881 Gottleib Bratschi, 136 E. 3rd, Leadville, CO - Miner  
1882 Gottlieb Bratschi, 136 E. 3rd -  Leadville, CO -  R(ents) - Laborer
1885  Gottlieb Bratschi, 130 Oak - Leadville, CO - Occupation:Cook
23 Nov 1836 - Gottlieb Bratschi - Clear Creek Canyon, CO - Miner
We come to an end of the attestation we have for Gottlieb Bratschi at this time.  Although this culmination seems to be more than sad; don't stop now, the best is  yet to come. You will be be touched with a better sense of who Gottleib Bratschi really was from the hearts of his genuine friends and neighbors.
Part II
CHAFFEE COUNTY MINING NEWSPAPER
Winfield -
Clear Creek District
Communicated - Nov 26 1886

Today the remains of Gottleib Bratschi, the first victim of a snow slide in the Clear Creek Valley, were followed to the grave by nearly every inhabitant of our little camp. It was a sad little procession that wound its way up the Right Hand Fork road, the same highway over which the old gentlemen had climbed last Tuesday on his way to his death, to the burying ground already chosen as the resting place of Winfield's dead; and as the clods of earth fell on the coffin, everyone felt that it was hiding a friend from his sight forever.

Briefly the facts of the accident are as follows: In company with Mr. James Douglass Jr., of New York, Jacob Sands of Leadville and Mr. Logan of Winfield, Gottleib was toiling along a trail above timberline to visit a properly. Just before reaching there, in crossing a narrow gulch, the snow gave way beneath them and Sands, Logan and Gottleib were all precipitated down the mountain with the slide. Douglass was far ahead; he had crossed the same place on hands and knee, fearing danger. Sands and Logan escaped without serious injury, though both were considerably bruised. Gottleib was missing. A rapid search failed to find him, and Mr. Douglass came to camp and gave the warning. Sixteen brave volunteers went immediately to the rescue. The day was intensely blustery and cold; they dug till night without result; two of them, Mess. Smith and Kearney, had their fingers badly frozen; Mr. Smith also had his feet and ears frozen.

Nothing daunted, the next morning twelve more went to the scene. At the extreme lower end of the slide Mr. Douglass and L. A. Treat found the frozen body of the old man and he was brought to town about noon. In the afternoon Mr. Douglass read the burial service in the little cabin, the former home of the victim, which was crowded with Winfield's sympathetic people; Mr. Sands sent a coffin from Leadville and to day the last sad rites were observed as stated above.

But little is known regarding Gottleib except that he was a Swiss by birth and has a wife and family in Osceola, Missouri, to whom he expected shortly to go and give up mountain life. He was about 55 years of age and possessed such an even kindly disposition as endeared him to all who knew him.

S I D - Buena Vista Democrat - Wed Dec 1, 1886     (Part of an Article from "Colorado Historic Newspapers")
© Stacey Wallace Rehbein
Contact me:  Stacey@FamilyDig.net